Yesterday I had a Birthday. It was a pretty big Birthday. The big three zero. Thirty….but wait, didn't I just turn 25 last year? The past five years have flown by…and I definitely don't feel 30!
I didn't do much for my birthday (I will celebrate with my family over the weekend) but I was able to relax a bit, play a few games(scramble with friends & draw something) on my iPhone and have some frozen yogurt (yum!). Oh, and my niece Peyton, who is finishing up her freshman year of college, wrote a little blog post in honor of my Birthday. It was a great present to receive :)
Last week I was digging through my files—in search of some photos for Peyton (my digital photos are a mess. Must. Organize. Photos.) and I came across some photos of me that I had forgotten I even had! So, because I am a geek (and possibly feeling a little reflective due to my birthday), I made a little photo board with a few of the favorite photos I came across. I thought that it would be fun to share them with everyone!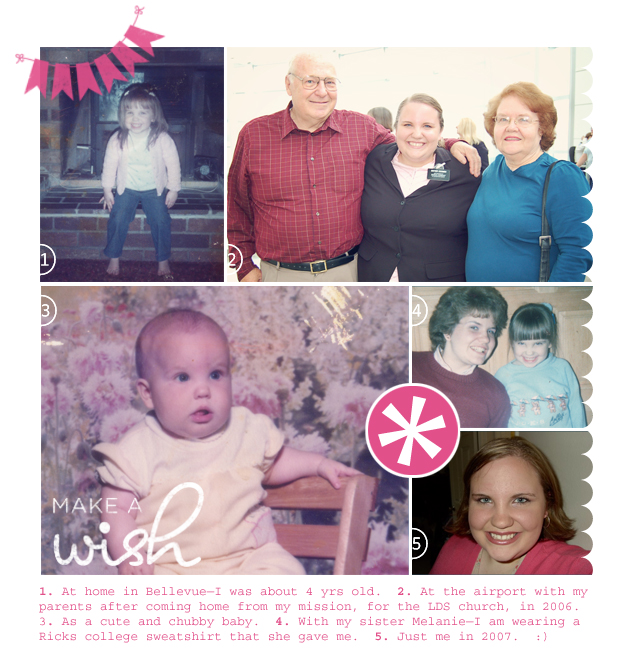 In celebration of my birthday, I made some cute photoshop brushes for y'all to have for free! I love photoshop brushes—they are so fun to play with! This brush set of 10 brushes will work with both photoshop and photoshop elements. In the download file I have included both the .abr file and individual 300 dpi .png's of each brush.
[Click on the preview image to start download]
I hope that y'all love these as much as I do, and would love to see what you create with them (you can link me to what you make in the comments)!
If you would like to keep up to date with my product releases, news and promotions you can sign up for my newsletter! I send out a newsletter a few times each month, and include a freebie or coupon to my store.